Setis rectangular table with extensions
A highly contemporary and chic table
Want to see it in your home in augmented reality?
Display the 3D view on your mobile and activate augmented reality to visualise this piece of furniture in your room.
Click on the cube icon below the product image and wait until the module loads
Click on the blue icon visible on the 3D image. Soon you'll see your furniture in your room!
Product details
Love combinations of materials? This rectangular table comprising an aluminium leg with a chiselled look is an excellent choice for furnishing your lounge or dining room with a refined look. Its highly modern look and wide choice of finishes mean it fits in easily with any style of contemporary decor. Its large top means you can seat up to 12 people by adding discreet extensions underneath the central top. Practical with a designer feel, this table is the ideal compromise for hosting sumptuous dinners as well as serving everyday meals. Our tip: choose the ceramic version if you want to be able to place hot dishes straight onto the table or even cut on it, with no risk of damage.
Features and dimensions
Reference
1310H40
Materials
All furniture is self-assembly except where marked * (fully assembled with possible exception of handles, floor protectors and castors). Aluminium frame. Top made from particleboard covered with white lacquer or grey, sierra, country, structured or vintage oak effect melamine, or covered with charcoal or ecru ceramic (varnished). Includes 2 extensions each measuring 40 cm (same as top).
Details
Materials
Particleboard
Weight
71 kg
Dimensions
W. 190/270 cm * H. 75 cm * D. 95 cm
Package sizes
Package 1: 96 x 8 x 184 cm (56 kg)
Package 2: 82 x 17 x 102 cm (14.5 kg)

Download assembly instructions
Origin : France
Manufacturer: Gautier
Origin: France
Guarantee : 10 years
10 years warranty
The 10 years warranty applies to Gautier furniture.

GAUTIER will resolve, for free, any manufacturing defect which may arise following domestic and indoor use of the product, unless it was a display model.
The warranty is limited to the repair of any parts or furniture deemed faulty or the replacement thereof by a comparable product. Any other service or indemnity is excluded from the guarantee.
In the event that an original part cannot be provided (item out of stock), a compa-rable component or coating will be offered.
Ideal with
Find out more about this product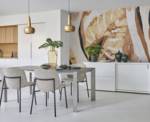 Find out more about this product
Continue on your computer or tablet to start a new project
"This rectangular table is a must-have in your home. Its two cleverly hidden extensions are really practical, providing you with extra space in a flash.
The various natural or lacquered colours available to personalise your top are available to view in our stores.
The SETIS collection brings you an excellent choice of trendy furniture
Our tables seat from 2 to 16 guests depending on the model. Simple and understated, they suit any type of home and any occasion. Working at home or entertaining becomes a real source of pleasure! Simply select your choice of finish and size.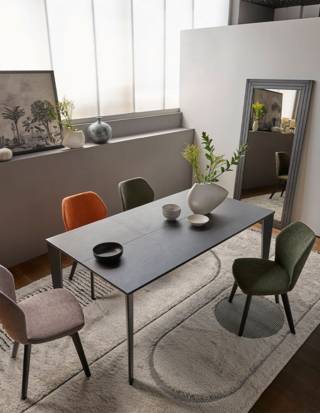 Why will you love our tables?
An elegant, trendy design
As one of the key elements in your home, our tables are suitable for all kinds of everyday use. This is why our tables are designed to be sociable as well as refined.
Generously-sized tables
Seating from 4 to 16 people, they are perfect for getting together to share special times with family or friends.
Smart, multi-purpose tables
Our various designs of tables meet all your needs. Perfect for home working, they also make it easy to bring together all your friends and family for a sociable meal. Extremely versatile, you can use them in several different ways throughout the day.
Gautier & you
Our collections look nowhere better than in your home. Share your layouts with us via #MyGautier and mention @gautier_france
We will help you complete
our dining room
Seen something that grabs your attention?
We thought you might
like these products
Need some inspiration to find the right style?
Setis rectangular table with extensions