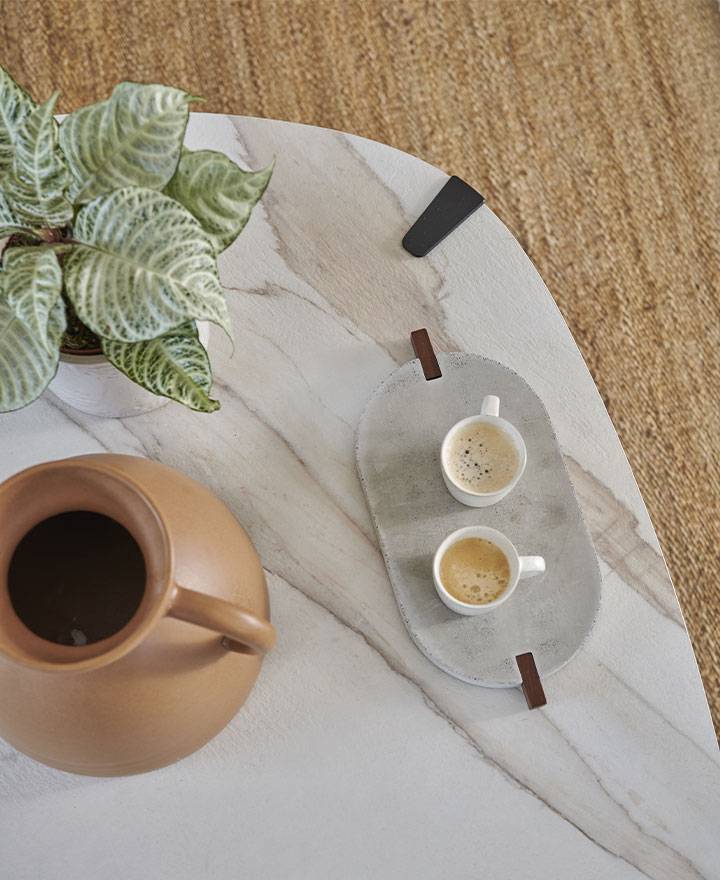 Addict Galet coffee table
An inspiring and elegant table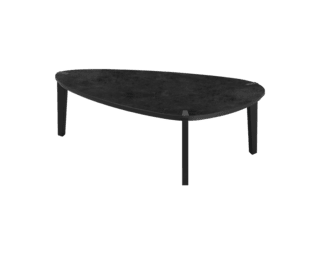 Want to see it in your home in augmented reality?
Display the 3D view on your mobile and activate augmented reality to visualise this piece of furniture in your room.
Click on the cube icon below the product image and wait until the module loads
Click on the blue icon visible on the 3D image. Soon you'll see your furniture in your room!
Finish Onyx brut
Dimensions
Product details
Looking to create a restful atmosphere in your lounge? The GALET coffee table is inspired by nature and brings you a piece of furniture with a decidedly mineral feel. Its shape gives it a very contemporary look. Its immaculate finishes and rounded shape exudes a soft, peaceful feel, whilst the various colours and heights available add a dash of originality to your home. Our tip: combine it with our QUADRO and ALTO tables for a stunning effect!
Features and dimensions
Reference
1311268
Materials
Finished top made from particleboard covered with melamine or black foil with varnished crackle terracotta print. Lower top made from particleboard covered with black foil. Solid ash legs and inserts.
Details
Materials
Particleboard
Assembly
Meuble à monter soi-même
Weight
16 kg
Dimensions
W. 120 cm * H. 38 cm * D. 69 cm
Package sizes
Package 1: 14 x 8 x 47 cm (2 kg)
Package 2: 73 x 5 x 122 cm (14 kg)

Download assembly instructions
Origin : France
Manufacturer: Gautier
Origin: France
Guarantee : 10 years
10 years warranty
The 10 years warranty applies to Gautier furniture.

GAUTIER will resolve, for free, any manufacturing defect which may arise following domestic and indoor use of the product, unless it was a display model.
The warranty is limited to the repair of any parts or furniture deemed faulty or the replacement thereof by a comparable product. Any other service or indemnity is excluded from the guarantee.
In the event that an original part cannot be provided (item out of stock), a compa-rable component or coating will be offered.
Continue on your computer or tablet to start a new project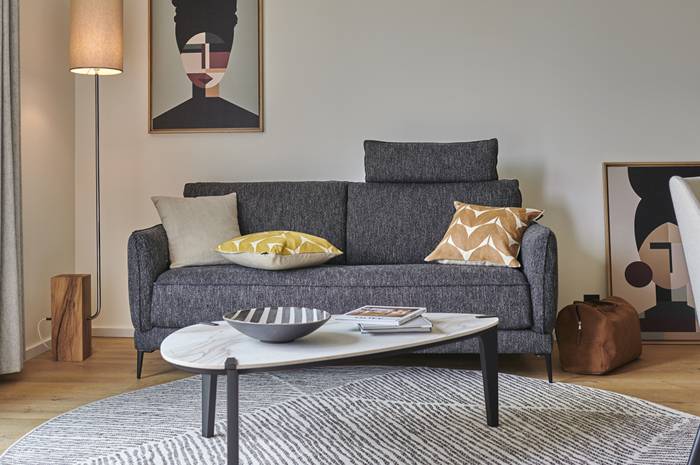 A coffee table with a really unusual look.
"The organic shape and colour selection for the GALET coffee table are inspired by nature.
Visit your nearest store to see the three colour options.
The ADDICT collection blends style with practicality
Our ADDICT furniture is easily recognisable with its unusual lines and mix of shapes, heights, materials and colours. An excellent choice for anyone who likes to add personality to their home.
Need some inspiration to find the right style?
Why will you love our tables?
A variety of styles to match any home
Whether you like everything to match or prefer a mixture of styles, our coffee tables suit any preference. In line with our tastes for contemporary carpentry, this essential piece of furniture sets the tone for your home.
Furniture elements made for your lifestyle
Our coffee tables are really ingenious with their storage options which blend in seamlessly with no compromise on the piece's modern, welcoming style; making entertaining and relaxing an absolute pleasure.
Hardwearing and long-lasting coffee tables
The fact that they are designed in our workshops by our own designers and carpenters means that the products are guaranteed high quality, made to last as a piece of lounge furniture to use day after day.
We will help you complete
our living room
Seen something that grabs your attention?
We thought you might
like these products
Addict Galet coffee table