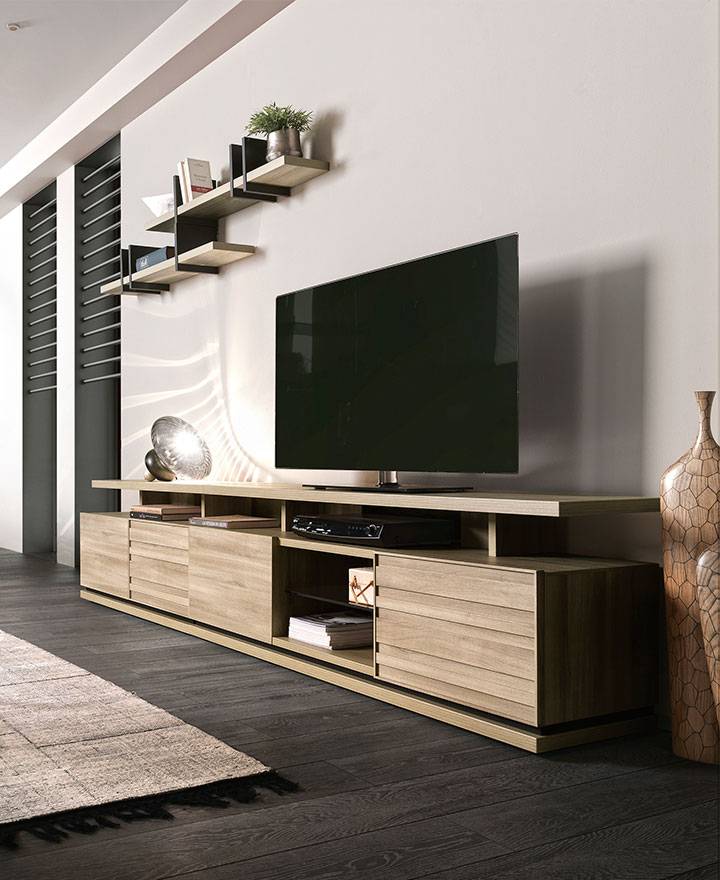 Natura TV composition 3
An understated, elegant composition
Want to see it in your home in augmented reality?
Display the 3D view on your mobile and activate augmented reality to visualise this piece of furniture in your room.
Click on the cube icon below the product image and wait until the module loads
Click on the blue icon visible on the 3D image. Soon you'll see your furniture in your room!
Product details
Want to create a feature wall with a stylish yet practical TV unit? You'll love this ingenious yet chic composition. Combining two completely identical TV units provides you with all the storage you need to create uncluttered space in your home. The carefully finished door fronts on these units helps bring a highly contemporary feel to your decor. The quality of the materials used for this set of furniture is plain to see at first glance. Add the wall shelf from the same NATURA collection to create a warm atmosphere that's ideal in any relaxing space.
Features and dimensions
Reference
1D16903
Materials
Ref. 1D16330 - 1 TV unit with 2 doors Ref.1D16333 - 1 TV stand for unit ref. 1D16330 Ref. 1D16335 - 1 TV unit with 2 doors and 1 compartment Ref.1D16338 - 1 TV stand for unit ref. D16.335 Ref.1D16590 - 2 Wall shelves Frame and fronts in particleboard covered with foil or country oak melamine.  2mm ABS flat or thick edges in the same finish. Fibreboard mouldings covered with country oak effect or plain black foil. Black tempered 10mm glass on bookcase and shelf of the L.160 TV unit. Adjustable feet under all units. Drawer frames in fibreboard covered with Country oak effect foil on height-adjustable hidden roller runners with soft-close mechanism. Clip-on hinges with detachable soft-close mechanism. All furniture is self-assembly except where marked * (fully assembled with possible exception of handles, floor protectors and castors).
Details
Materials
Particleboard
Assembly
Meuble à monter soi-même
Weight
158 kg
Dimensions
W. 268 cm * H. 62 cm * D. 45 cm
Package sizes
Package 1: 38 x 14 x 61 cm (15 kg)
Package 2: 46 x 10 x 116 cm (29 kg)
Package 3: 41 x 7 x 124 cm (13 kg)
Package 4: 43 x 9 x 168 cm (34 kg)
Package 5: 46 x 10 x 168 cm (34 kg)
Package 6: 41 x 7 x 176 cm (17 kg)
Package 7: 23 x 6 x 115 cm (8 kg)
Package 8: 23 x 6 x 115 cm (8 kg)

Download assembly instructions
Origin : France
Manufacturer: Gautier
Origin: France
Guarantee : 10 years
10 years warranty
The 10 years warranty applies to Gautier furniture.

GAUTIER will resolve, for free, any manufacturing defect which may arise following domestic and indoor use of the product, unless it was a display model.
The warranty is limited to the repair of any parts or furniture deemed faulty or the replacement thereof by a comparable product. Any other service or indemnity is excluded from the guarantee.
In the event that an original part cannot be provided (item out of stock), a compa-rable component or coating will be offered.
Continue on your computer or tablet to start a new project
Placing these two TV units next to one another is the ideal layout for creating an extensive yet tidy surface area.
The composition 3 TV units is ideal for spacious or very long rooms. It allows you to retain all your central space for comfortable seating, whilst still giving access to all the storage solutions arranged along the wall.
Really practical, the cable ports in each TV unit mean you can hide away the cabling for your electronic equipment.
The NATURA collection strikes the perfect balance between graphic and natural lines.
The NATURA furniture truly stands out with its untreated appearance and authentic country oak finish. This natural veneer creates an unbeatably warm feel that helps give any room a sociable feel.
Why will you love our TV units?
Our TV units have a decidedly designer feel
Our TV units are stylish yet understated and refined so they blend in easily with the rest of your furniture. We offer various different finishes so you can personalise them to your tastes. Their elegant look will enhance the charm of your living room.
Our TV units are designed for you
We design TV units that are practical, stylish and smart. Offering plenty of storage and cable ports, they are perfectly suited to all your needs whilst providing an immaculate finish.
Our TV units are made in France
Manufactured in our workshops in the Vendée region of France, we ensure all our TV units are high quality and durable. Our materials are carefully selected so that our TV units are strong and high quality.
Gautier & you
Our collections look nowhere better than in your home. Share your layouts with us via #MyGautier and mention @gautier_france
Seen something that grabs your attention?
We thought you might
like these products
Need some inspiration to find the right style?