Peps wall shelf
A sparkly, fun wall shelf
Extend the Gautier experience right to your phone. Use augmented reality to see this product in your home
Finish Grenadine red
Dimensions
Product details
With its three bright colours, this shelf adds originality and fun to a wall: perfect for a child's bedroom that's already full of happiness and laughter. This practical shelf is also great for showcasing pretty decorations and other more mundane items such as alarm clocks and speakers. Whatever you add, it remains stylish!
Features and dimensions
Materials
Frame made from particleboard covered with plain red, yellow or blue foil or black melamine. 1mm thick ABS edges and thin edges in the same plain colour to match. Clear silvered glass on the clothes stand. Ladder clothes stand frame made from lacquered beech. Mobile trolley: ABS shelf support, rail made from MDF covered with plain red, yellow or blue foil or black melamine, black nylon castors. ITALIC bookcase and HASHTAG shelves: 38 mm diameter axis made from MDF with black covering. All furniture is self-assembly except where marked * (fully assembled with possible exception of handles, floor protectors and castors).
Details
| | |
| --- | --- |
| Materials | Particleboard |
| Weight | 8 kg |
| Dimensions | W. 51/75 cm * H. 44 cm * D. 25 cm |
Download assembly instructions
app.product.delivery.title
The original, quirky frame of this shelf is quite eye-catching!
Combine several shelves in the same or different colours to create a totally fun, highly decorative combination.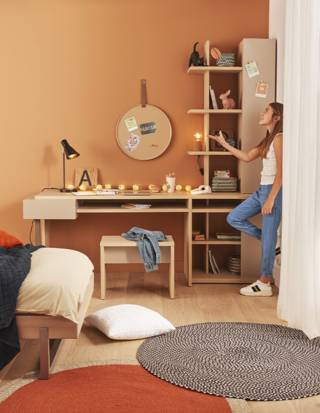 Gautier makes tidying your bedroom child's play
Practical, well-designed furniture
For your child's bedroom to be tidy and organised, they need practical, clever storage spaces. Giving them low storage units, under desks and on walls, makes it easier for them to sort and organise their belongings and toys.
A tidy, organised bedroom
Thanks to the great storage capacity of this unit, your child will have all the space they need to carefully arrange their belongings and toys. No more hotchpotch! Each item will have its own place in the bedroom.
Our storage units are durable
All our storage units are made in France using materials selected for their quality and sturdiness. We test their robustness to ensure they can withstand the test of time and the boundless energy of your children.
Seen something that grabs your attention?
We thought you might
like these products
Need some inspiration to create the cosy home of your dreams?
Let's imagine together the ideal room for your children
We support you to imagine your children's dream room: furniture, decoration ... A complete project from A to Z for a space in their image where they can fully develop.
We have plenty of advice, ideas and handy hints!