Dimix Trio 90 x 200 sliding bed
Want to see it in your home in augmented reality?
Display the 3D view on your mobile and activate augmented reality to visualise this piece of furniture in your room.
Click on the cube icon below the product image and wait until the module loads
Click on the blue icon visible on the 3D image. Soon you'll see your furniture in your room!
Available in several finishes
Features and dimensions
Reference
1A06685
Materials
Mattress and box spring not included.
Frame and fronts in particleboard covered with plain white foil, smooth grey melamine or structured oak melamine. 2mm or 1mm thick ABS edges in grey and white or structured oak. Drawer frames made from particleboard covered with white PP (polypropylene) on white roller runners. Grey lacquered zamak handles. Grey lacquered metal desk legs and aluminium runners. ABS non-slip edges, clip-on hinges. Guard rails on high beds and bunk beds and partition door in PMMA with a grey aluminium frame. Grey lacquered beech ladder handles and headboard. All furniture is self-assembly except where marked * (fully assembled with possible exception of handles, floor protectors and castors). Fits under high bed ref. 1A06690 - 1A26690 and ref. 1A0669A - 1A2669A. 4 grey castors (2 with front brake). Option to add a black reading light + USB to the headboard (accessories ref. 1905930).
Details
Materials
Particleboard
Assembly
Meuble à monter soi-même
Weight
43 kg
Dimensions
W. 206 cm * H. 62 cm * D. 97 cm
Package sizes
Package 1: 63 x 10 x 105 cm (22 kg)
Package 2: 38 x 6 x 210 cm (21 kg)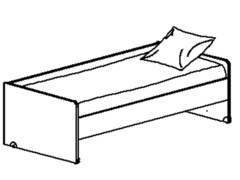 Download assembly instructions
Origin : France
Manufacturer: Gautier
Origin: France
Ideal with
Find out more about this product
Continue on your computer or tablet to start a new project
Need some inspiration to create the cosy home of your dreams?
Let's imagine together the ideal room for your children
We support you to imagine your children's dream room: furniture, decoration ... A complete project from A to Z for a space in their image where they can fully develop.
We have plenty of advice, ideas and handy hints!
Beds with room to grow and dream
Stylish beds that kids and teens will love
Kids and teens alike will love our range of beds. Their carefully crafted finishes and trendy designs make them timeless.
Our beds are as inexhaustible as your kids
Our 'kids' beds are designed to withstand anything your kids might throw at them, because we understand children's exuberant energy. Our beds are havens and cosy cocoons in which your kids can play, imagine and rest after a crazy, busy day!
Carefully crafted beds with your kids in mind
We only use solvent-free water-based finishing products. Your children need to grow up in bedrooms that provide a healthy environment, in line with current manufacturing standards.
Dimix Trio 90 x 200 sliding bed