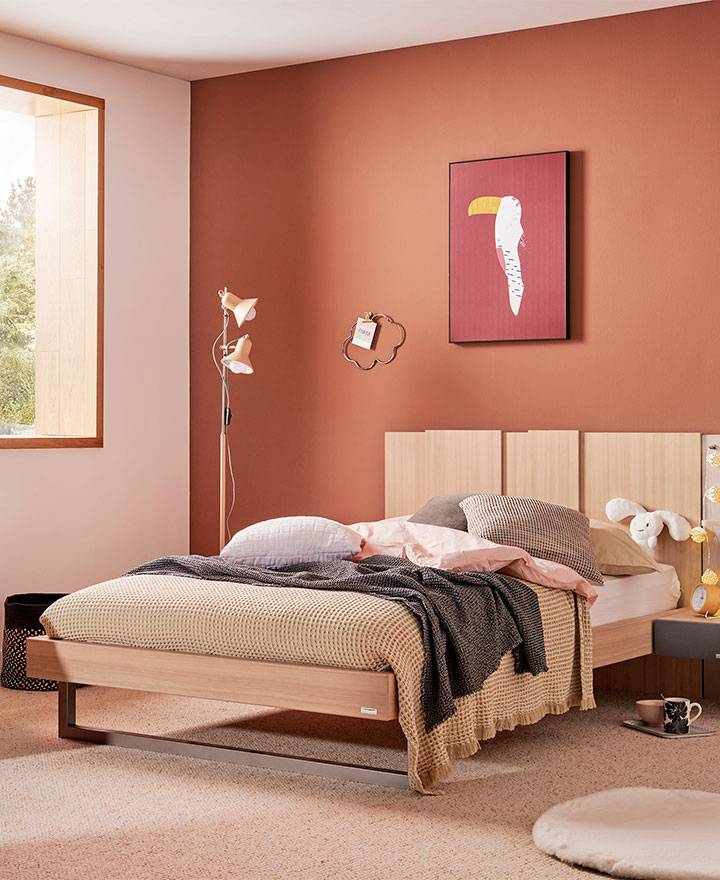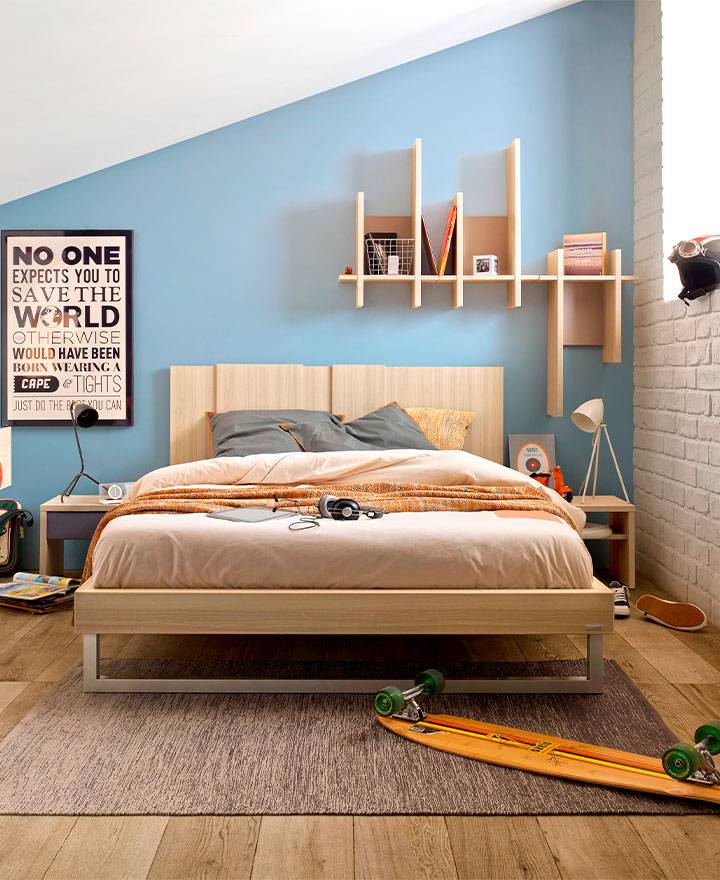 Graphic 90 x 190 cm bed
A bold, refined bed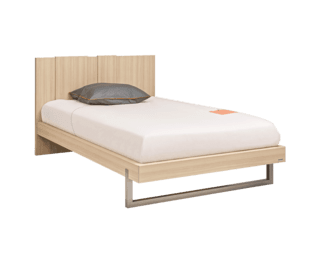 Bed dimensions
Finish Structured oak
Product details
This bed in our GRAPHIC collection is ideal for kids who want to feel grown up. The bed subtly reflects an adult furniture look while maintaining a plush, relaxed little kids style. Use it to create a bedroom with an understated, natural feel. Your kids will continue to enjoy it as they grow. This bed is also available in other sizes, if your teen wants something bigger. Choose between 120 x 200 cm or even 140 x 200 cm. Ideal for spreading out your favourite magazines and playing with toys.
Features and dimensions
Reference
1A15100
Materials
Bedside tables, mattress and box spring not included
Frame and fronts in particleboard covered with structured oak and greige effect melamine.  Flat and rounded or thick 1mm ABS edges with structured oak and greige foil. Mouldings in fibreboard covered with structured oak effect foil. 3mm clear silvered glass on mirror and wardrobes. Bed and desk legs in champagne epoxy lacquered tubular steel. Drawer frames in black polypropylene foiled particleboard on black roller drawer runners with soft-close mechanism. Soft-close mechanism on hinged doors. All furniture is self-assembly except where marked * (fully assembled with possible exception of handles, floor protectors and castors).
Details
Materials
Particleboard
Assembly
Meuble à monter soi-même
Weight
52 kg
Dimensions
W. 103 cm * H. 96 cm * D. 199 cm
Package sizes
Package 1: 97 x 6 x 113 cm (26 kg)
Package 2: 13 x 17 x 207 cm (23 kg)
Package 3: 0 x 0 x 0 cm (3 kg)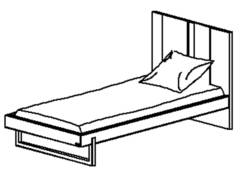 Download assembly instructions
Origin : France
Manufacturer: Gautier
Origin: France
Ideal with
Find out more about this product
Find out more about this product
Continue on your computer or tablet to start a new project
Kids always have stuff to hide under their bed, so choose to add an underbed drawer and everyone will be happy.
The headboard has a warm wood finish and funny patterns. You kids will quickly make it their own!
Need some inspiration to create the cosy home of your dreams?
Let's imagine together the ideal room for your children
We support you to imagine your children's dream room: furniture, decoration ... A complete project from A to Z for a space in their image where they can fully develop.
We have plenty of advice, ideas and handy hints!
Beds with room to grow and dream
Stylish beds that kids and teens will love
Kids and teens alike will love our range of beds. Their carefully crafted finishes and trendy designs make them timeless.
Our beds are as inexhaustible as your kids
Our 'kids' beds are designed to withstand anything your kids might throw at them, because we understand that kids have boundless energy. Our beds are havens and cosy cocoons in which your kids can play, imagine and rest after a busy day!
Carefully crafted beds with your kids in mind
We only use solvent-free water-based finishing products. Your children need to grow up in bedrooms that provide a healthy environment, in line with current manufacturing standards.
We will help you complete
our children's bedroom
Seen something that grabs your attention?
We thought you might
like these products