Montmartre bedside table on legs
A chic and refined bedside unit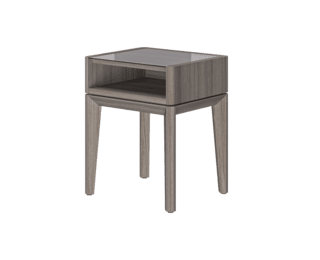 Want to see it in your home in augmented reality?
Display the 3D view on your mobile and activate augmented reality to visualise this piece of furniture in your room.
Click on the cube icon below the product image and wait until the module loads
Click on the blue icon visible on the 3D image. Soon you'll see your furniture in your room!
Continue on your computer or tablet to start a new project
The MONTMARTRE bedside table is an absolute winner. Its practicality means you will use it every day whilst enjoying its unbeatably stylish look. Within easy reach whenever you are in bed, it is elegant as well as discreet.
It includes a compartment for books or magazines.l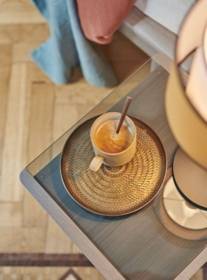 With its bold styling, the MONTMARTRE collection features textures and rounded shapes to create a stunning, modern bedroom.
The "herringbone" style and the "vintage oak" finish accentuate the elegant, timeless feel of this collection. Each element of the MONTMARTRE furniture conveys our vision of "French chic". Our dedication and audacity shine through each and every detail of our furniture to enhance your home.
Why you'll love our bedside tables
Our bedside tables have a style of their own
Our attractive beside tables are easy to pair with the rest of your furniture. Their immaculate finishes give them a refined, elegant look. They will bring out the best in your bedroom.
Our bedside tables are attractive and practical
We have a wide variety of free-standing and wall-mounted bedside tables designed to meet your needs and suit all spaces. They are a "smart solution", offering plenty of clever design features.
Our bedside tables offer functional good looks
Our bedside tables are functional without compromising on style. They all feature drawers with soft-close mechanisms, so will withstand your daily demands without making a sound!
Gautier & you
Our collections look nowhere better than in your home. Share your layouts with us via #MyGautier and mention @gautier_france
Need some inspiration to find the right style?
Montmartre bedside table on legs