Natura small 3-door sideboard
A traditional and practical sideboard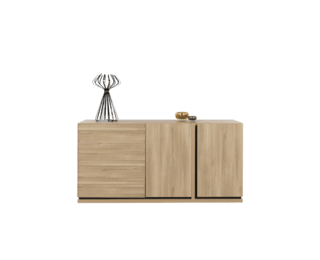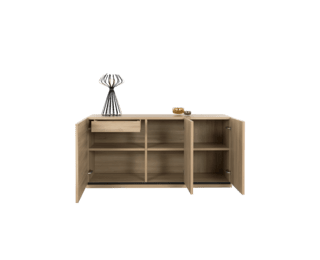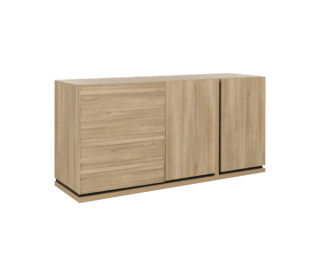 Extend the Gautier experience right to your phone. Use augmented reality to see this product in your home
Product details
Love simple, stylish furniture? You're sure to like this NATURA sideboard. It has three doors providing easy access to your shelves. Ideal if you don't want your items to get dusty, or prefer to hide them away from view in a smart, stylish piece of furniture. The design of this small sideboard puts the emphasis on the splendour of wood. The visible veining runs through virtually all the lines on this contemporary piece of furniture. Furnish your dining room by adding this sideboard to bring style to your home. As an added bonus, its compact size means you can position it in a passageway or open area without it taking up too much floor space. Practical and trendy, this sideboard is an absolute essential.
Features and dimensions
Materials
Frame and fronts in particleboard covered with foil or country oak melamine.  2mm ABS flat or thick edges in the same finish. Fibreboard mouldings covered with country oak effect or plain black foil. Black tempered 10mm glass on bookcase and shelf of the L.160 TV unit. Adjustable feet under all units. Drawer frames in fibreboard covered with Country oak effect foil on height-adjustable hidden roller runners with soft-close mechanism. Clip-on hinges with detachable soft-close mechanism. All furniture is self-assembly except where marked * (fully assembled with possible exception of handles, floor protectors and castors).
Details
| | |
| --- | --- |
| Materials | Particleboard |
| Weight | 112 kg |
| Dimensions | W. 170 cm * H. 84 cm * D. 51 cm |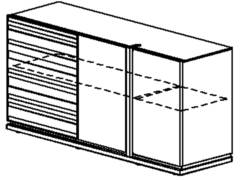 Download assembly instructions
app.product.delivery.title
This eye-catching sideboard has easily accessible storage via its three doors.
"The warm feel of this natural wood sideboard will brighten up your living room whilst also saving space.
The traditional finish means it blends in easily with natural decor.
The NATURA collection strikes the perfect balance between graphic and natural lines.
The NATURA furniture truly stands out with its untreated appearance and authentic country oak finish. This natural veneer creates an unbeatably warm feel that helps give any room a sociable feel.
Why will you love our sideboards?
Our sideboards are practical as well as stylish
Our sideboards blend easily into your home. They help you save a lot of room by maximising storage space. With several drawers and shelves, our sideboards are extremely stylish and can be placed in your lounge as well as in your hallway.
Bold designs with the emphasis on modernity
The inventive, immaculate finishes on our sideboards give them a highly unusual look whilst bringing much sought-after chic styling to your home.
Essential storage furniture for your home
Our storage spaces are especially designed to hold all your crockery and table linen. Maximising this hidden space to give your living areas room to breathe is our key aim when designing these pieces.
Seen something that grabs your attention?
We thought you might
like these products
Need some inspiration to find the right style?
Natura small 3-door sideboard