Setis Rondo round table with black legs
A round, understated table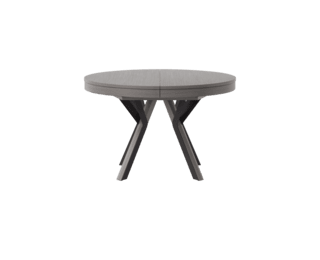 Want to see it in your home in augmented reality?
Display the 3D view on your mobile and activate augmented reality to visualise this piece of furniture in your room.
Click on the cube icon below the product image and wait until the module loads
Click on the blue icon visible on the 3D image. Soon you'll see your furniture in your room!
Available in several finishes
Product details
Do you prefer round tables, which are better suited to sociable dinner parties? If so, check out our RONDO table. This round table with a built-in butterfly extension is highly ingenious: its system means you can extend it really easily with minimum effort. Double its capacity from 4 to 8 people in a flash! Really practical for adding extra space. Its unusual legs contrast elegantly with the timeless circular shape of the top. Understated and sophisticated, this stunning table is suitable for all your dinners, from the simplest to the most refined. When choosing your finish, consider the advantages of ceramic; this means you can place hot dishes straight onto the table or even cut on it, with no risk of damage.
Features and dimensions
Reference
1310D00
Materials
Frame in particleboard covered with white lacquer or grey, sierra, structured, vintage or country oak effect melamine or charcoal or ecru (varnished) ceramic finish. Extension same as frame except for the ceramic tables: particleboard covered with pink or cream melamine. Leg sections made from fibreboard covered with white or grey, sierra, structured, vintage or country oak effect foil; or covered with pinky-grey or cream foil (for ceramics). Steel legs with grey epoxy lacquer. Adjustable feet. 1 built-in extension with 45 cm butterfly opening. All furniture is self-assembly except where marked * (fully assembled with possible exception of handles, floor protectors and castors).
Details
Materials
Particleboard
Assembly
Meuble à monter soi-même
Weight
93 kg
Dimensions
W. 120/165 cm * H. 77 cm * D. 120 cm
Package sizes
Package 1: 121 x 16 x 127 cm (60 kg)
Package 2: 48 x 9 x 68 cm (12 kg)
Package 3: 19 x 8 x 86 cm (5 kg)
Package 4: 0 x 0 x 0 cm (16 kg)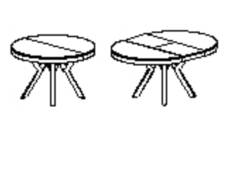 Download assembly instructions
Origin : France
Manufacturer: Gautier
Origin: France
Guarantee : 10 years
10 years warranty
The 10 years warranty applies to Gautier furniture.

GAUTIER will resolve, for free, any manufacturing defect which may arise following domestic and indoor use of the product, unless it was a display model.
The warranty is limited to the repair of any parts or furniture deemed faulty or the replacement thereof by a comparable product. Any other service or indemnity is excluded from the guarantee.
In the event that an original part cannot be provided (item out of stock), a compa-rable component or coating will be offered.
Ideal with
Find out more about this product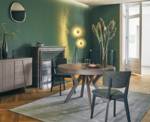 Find out more about this product
Continue on your computer or tablet to start a new project
"The really ingenious RONDO table extends via a really ergonomic butterfly opening system. It converts into a classy, spacious table to seat your guests in a flash.
8 choices of materials are available as well as 2 types of legs (black or aluminium) to create a whole host of possible combinations.
The SETIS collection brings you an excellent choice of trendy furniture
Our tables seat from 2 to 16 guests depending on the model. Simple and understated, they suit any type of home and any occasion. Working at home or entertaining becomes a real source of pleasure! Simply select your choice of finish and size.
Need some inspiration to find the right style?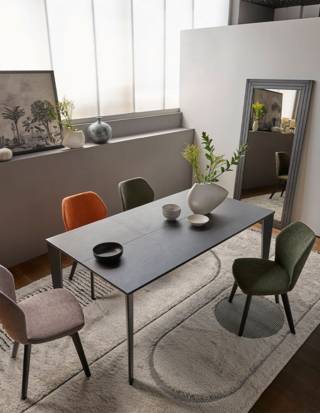 Why will you love our tables?
An elegant, trendy design
As one of the key elements in your home, our tables are suitable for all kinds of everyday use. This is why our tables are designed to be sociable as well as refined.
Generously-sized tables
Seating from 4 to 16 people, they are perfect for getting together to share special times with family or friends.
Smart, multi-purpose tables
Our various designs of tables meet all your needs. Perfect for home working, they also make it easy to bring together all your friends and family for a sociable meal. Extremely versatile, you can use them in several different ways throughout the day.
We will help you complete
our dining room
Seen something that grabs your attention?
We thought you might
like these products
Setis Rondo round table with black legs